PROJECT SCOPE
ANNUAL REPORT
IDENTITY DESIGN
PRESENTATION DECK
ADVERTISING
CENTRE FOR BLOOD RESEARCH AT THE UNIVERSITY OF BRITISH COLUMBIA (UBC)
The Centre for Blood Research (CBR) is a multidisciplinary biomedical research institute, situated primarily at the University of British Columbia (UBC) and affiliated teaching hospitals, with nodes at the University of Northern British Columbia and at the University of Victoria. Over 40 research groups at the CBR are working together, using a broad range of leading edge basic science, biotechnological, engineering and clinical investigative approaches on blood and blood-related processes to improve health. The logo image of two blood veins crossing each other represent the smooth flow of red blood cells in the body, and a double helix.
SOUTHWEST WOMEN'S ONCOLOGY CLINIC
The Southwest Women's Oncology is a state-of-the-art treatment center for women, offering the highest quality care for patients of all ages and medical needs. We are leaders in diagnosing, treating, and defeating gynecologic cancer. The image of the hourglass is used as a metaphor for the shape of a female body, and as a reminder to take the time to get screened.
The Surrey women's crisis centre, located in Surrey, British Columbia works in collaboration with the medical and justice communities for the safety and care of women and children escaping violence. The cover of the annual report features a photo of a woman hiding in the shadows - behind a cover flap - because she has lost her confidence and courage. The flap opens up to reveal her with courage and resilience to once again be apart of society.
BCIT NURSE TRAINING FACILITY  GOVERNMENT ANNOUNCEMENT BROCHURE
British Columbia government announcement to the media of a new RN nurse training facility on the grounds of the British Columbia Institute of Technology (BCIT).
BC OPIOID CRISIS PRESENTATION DECK
Presentation deck for The University of British Columbia (UBC) research into the opioid crisis in British Columbia.
Spinal Cord Injury BC (SCI BC) is a non-profit organization that helps people with spinal cord injuries, and related disabilities, adjust, adapt and thrive. I was given the task as a freelance graphic designer and art director to work with their advertising agency in Vancouver to develop a public service awareness advertising campaign. The piñata image is very relevant to the subject matter, because a large number of spinal cord injuries are from young adults who get into car accidents while driving home from a party. The campaign also extended to TV and radio spots that can be viewed  below the print ads.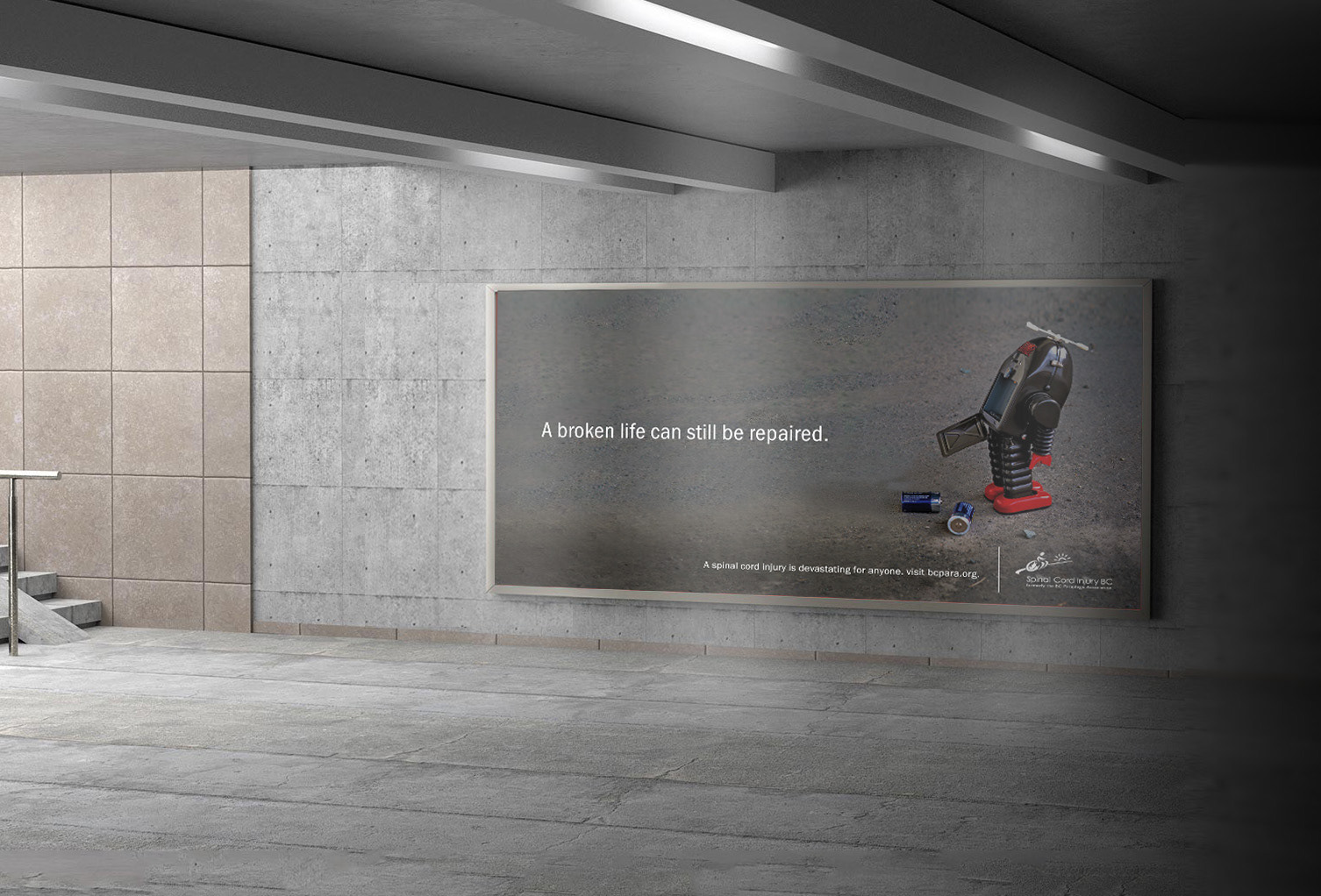 HEALTH EMPLOYERS ASSOCIATION OF BC
The Health Employers Association of BC (HEABC) represents a diverse group of over 200 publicly funded health care employers. Our members range in size from smaller affiliate organizations with specialized services to large, comprehensive health authorities with thousands of employees. 
HEABC is the accredited bargaining agent for most publicly funded health employers in the province, negotiating six major provincial agreements covering 170,000 unionized health care employees. In addition, HEABC's Physician Services team oversees and coordinates the negotiation of provincial and local physician contracts, including the Physician Master Agreement.
The annual report message is "Leadership through Collaboration" featuring a style showing people working together through the symbolism of hands.